Easy to make, healthy and Delicious!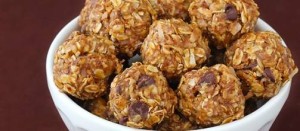 Ingredients:
1 cup (dry) oatmeal
⅔ cup toasted unsweetened coconut flakes
½ cup nut butter (almond, macadamia, cashew, etc.)
½ cup ground flaxseed
½ cup dark chocolate chips or cacao nibs (optional)
⅓ cup raw honey or pure maple syrup
1 tbsp. chia seeds (optional)
1 tsp. vanilla extract
Instructions
Stir all ingredients together in a medium bowl until thoroughly mixed. Let chill in the refrigerator for half an hour as the nut butter softly thickens each bite.
Once chilled, roll into balls of whatever size you would like (the smaller the better). Store in an airtight container and keep refrigerated for up to 1 week (unless they all go in the first day). Makes about 20-25 balls.